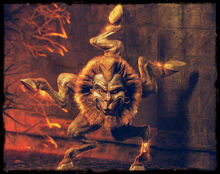 Ose is a Great President of Hell, ruling three legions of demons (thirty to other authors, it is the demon of madness, insanity, fanaticism and psychopathy, it creates surreal hallucinations with visions and dreams to bring all the madness. Before he belonged to the order of cherubim as Omarith.
Zodiac Position: 10-14 degrees of Capricorn
January 1st to 5th
Tarot Card: 3 of Pentacles
Planet: Venus
Metal: Copper
Plant: Horsetail
Candle Color: Green
Element: Earth
Rank: President
Ose is a Night Demon and rules 30 legions of spirits.
Ose teaches the liberal sciences and is able to change one into any form. He can bring deliusions and insanity to others. He also answers questions.
Ad blocker interference detected!
Wikia is a free-to-use site that makes money from advertising. We have a modified experience for viewers using ad blockers

Wikia is not accessible if you've made further modifications. Remove the custom ad blocker rule(s) and the page will load as expected.