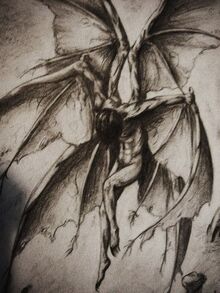 The 12th-century scholar Maimonides placed the seraphs in the fifth of ten ranks of angels in his exposition of the Jewish angelic hierarchy. In Kabbalah, the seraphim are the higher angels of the World of Beriah ("Creation", first created realm, divine understanding), whose understanding of their distance from the absolute divinity of Atziluth causes their continual "burning up" in self-nullification. Through this they ascend to God, and return to their place. Below them in the World of Yetzirah ("Formation", archetypal creation, divine emotions) are the Hayot angels of Ezekiel's vision, who serve God with self-aware instinctive emotions ("face of a lion, ox, eagle"). Seraphim are part of the angelarchy of modern Orthodox Judaism. Isaiah's vision is repeated several times in daily Jewish services, including at Kedushah prayer as part of the repetition of the Amidah, and in several other prayers as well. Conservative Judaism retains the traditional doctrines regarding angels and includes references to them in the liturgy, although a literal belief in angels is by no means universal among adherents. Adherents of Reform Judaism and Reconstructionist Judaism generally take images of angels as symbolic.
Ad blocker interference detected!
Wikia is a free-to-use site that makes money from advertising. We have a modified experience for viewers using ad blockers

Wikia is not accessible if you've made further modifications. Remove the custom ad blocker rule(s) and the page will load as expected.