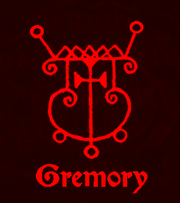 (Also known as Gamori, Gremory).
Zodiac Position: 5-9 degrees of Capricorn.
December 27th to 31st.
Tarot Card: 2 of Pentacles.
Planet: Saturn
Metal: Lead
Candle Color: Orange
Plant: Fenugreek
Element: Earth
Rank: Duke
Gremory is a Night Demon and rules 26 legions of spirits.
Gremory appears in the form of a woman. She causes one to be loved by women and brings love to men. She can discern past, present, and future and discovers hidden treasure.
Ad blocker interference detected!
Wikia is a free-to-use site that makes money from advertising. We have a modified experience for viewers using ad blockers

Wikia is not accessible if you've made further modifications. Remove the custom ad blocker rule(s) and the page will load as expected.