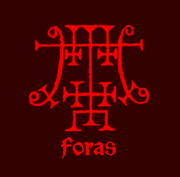 (AKA Forcas)
Zodiac Position: 0-4 degrees of Virgo
August 23rd to 27th
Tarot Card: 8 of Pentacles
Planet: Mercury
Candle Color: Orange
Plant: Century Plant
Metal: Murcury
Element: Earth
Rank: President
Foras is a Day Demon and rules over 29 legions of spirits.
He can make one charismatic, wise, wealthy, and invisible. He restores lost property and teaches logic and ethics.
He reveals the powers of herbs and precious stones, and has the power to make one invisible, live long and have charisma.