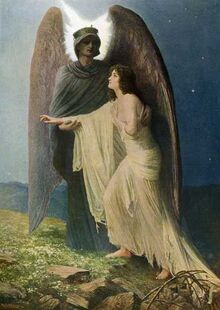 Equinox belongs to the order of the seraphim as Yushiel in hell he orders and orchestra evangelism control on earth falsely using the word of God to cheat, lie with Christian quackery, taking from the poor to enrich pastors, manipulates members of evangelical churches for incarnated demons with basic trick leads a legion of 90 demons. Equinox was responsible to incorporate in Martin Luther, founder of evangelism, which brought the disorder and chaos in the 16th century, with the death of innocent women that they mistook as witches. In the view of the Catholic Beata Serafina, tells his story of Martin Luther being tortured in hell.
The base of Equinox is in two parts, light and dark, deceptive light that passes for good, and the darkness that is the abyss of false light, is one of the demons who was deceived by Lucifer in the heavenly rebellion but a the segregated and isolated from other demons of hell, also known as repentant demon.
He is also responsible for the segregation of the Christian religion, using the moralizing and evangelical critical attack on the false perfection of God.
Ad blocker interference detected!
Wikia is a free-to-use site that makes money from advertising. We have a modified experience for viewers using ad blockers

Wikia is not accessible if you've made further modifications. Remove the custom ad blocker rule(s) and the page will load as expected.