(Grego daimon e daimonion, daemonium Latina).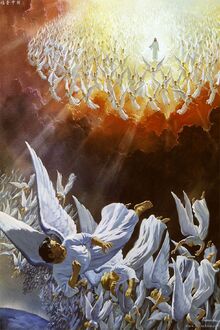 The demons or demon name was given to the archangel Michael to launch all the fallen angels to hell.
On the second day, God created 350 thousand angels in the celestial kingdom, in order to serve him, but this change that divided the angels gave the new creation of God with man, a great cherub consented of God did not want angels were serving him beyond the heavenly father.
He used his technique to try the man (Adam) and the woman (Eve) to be expelled from the paradise of God in the Garden of Eden.
Lucifer began to express a rebellion against God, managing to handle 200 thousand angels who followed him to a heavenly battle against God and the angels opposite, in exchange for a lot of power to them.
The great power of God helped defeat the rebellious angels together with Michael and Gabriel in the company of 150 thousand angels.
The rebel angels were fallen on the ground, on Mount Hermon, but Lucifer was the one to be released straight to hell, angels turned against God and practiced and taught all evil to man, breaking all the rules of God.
Michael was ordained by God to command his troops and launch them all eternal prison of hell, removing their wings, chained all the dark abyss of fire.
200 thousand demons begin to promote the evil of the earth, along with their leader, the King of Hell, Lucifer.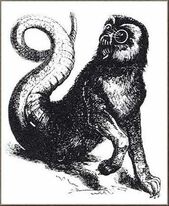 In Catholic Demonology
Edit
In Scripture and in Catholic theology this word has come to mean much the same as devil and denotes one of the evil spirits or fallen angels. And in fact in some places in the New Testament where the Vulgate, in agreement with the Greek, has daemonium, our vernacular versions read devil. The precise distinction between the two terms in ecclesiastical usage may be seen in the phrase used in the decree of the Fourth Lateran Council: "Diabolus enim et alii daemones" (The devil and the other demons), i.e. all are demons, and the chief of the demons is called the devil. This distinction is observed in the Vulgate New Testament, where diabolus represents the Greek diabolos and in almost every instance refers to Satan himself, while his subordinate angels are described, in accordance with the Greek, as daemones or daemonia. This must not be taken, however, to indicate a difference of nature; for Satan is clearly included among the daemones in James 2:19 and in Luke 11:15-18.
But though the word demon is now practically restricted to this sinister sense, it was otherwise with the earlier usage of the Greek writers. The word, which is apparently derived from daio "to divide" or "apportion", originally meant a divine being; it was occasionally applied to the higher gods and goddesses, but was more generally used to denote spiritual beings of a lower order coming between gods and men. For the most part these were beneficent beings, and their office was somewhat analogous to that of the angels in Christian theology. Thus the adjective eydaimon (happy), properly meant one who was guided and guarded by a good demon. Some of these Greek demons, however, were evil and malignant. Hence we have the counterpart to eudamonia (happiness), in kakodaimonia which denoted misfortune, or in its more original meaning, being under the possession of an evil demon. In the Greek of the New Testament and in the language of the early Fathers, the word was already restricted to the sinister sense, which was natural enough, now that even the higher gods of the Greeks had come to be regarded as devils.
We have a curious instance of the confusion caused by the ambiguity and variations in the meaning of the word, in the case of the celebrated Daemon of Socrates. This has been understood in a bad sense by some Christian writers who have made it a matter of reproach that the great Greek philosopher was accompanied and prompted by a demon. But, as Cardinal Manning clearly shows in his paper on the subject, the word here has a very different meaning. He points to the fact that both Plato and Xenophon use the form daimonion, which Cicero rightly renders as divinum aliguid, "something divine". And after a close examination of the account of the matter given by Socrates himself in the reports transmitted by his disciples, he concludes that the promptings of the Daemon were the dictates of conscience, which is the voice of God.
It may be observed that a similar change and deterioration of meaning has taken place in the Iranian languages in the case of the word daeva. Etymologically this is identical with the Sanskrit deva, by which it is rendered in Neriosengh's version of the Avesta. But whereas the devas of Indian theology are good and beneficent gods, the daevas of the Avesta are hateful spirits of evil.
In Christian Demonology
Edit
Demon has a number of meanings, all related to the idea of a spirit that inhabited a place, or that accompanied a person. Whether such a daemon was benevolent or malevolent, the Greek word meant something different from the later medieval notions of 'demon', and scholars debate the time in which first century usage by Jews and Christians in its original Greek sense became transformed to the later medieval sense. It should be noted that some denominations asserting Christian faith also include, exclusively or otherwise, fallen angels as in fact demons; this definition also covers the "sons of God" described in Genesis who abandoned their posts in heaven to mate with human women on Earth before the Deluge.
In the Gospel of Mark, Jesus casts out many demons, or evil spirits, from those who are afflicted with various ailments. Jesus is far superior to the power of demons over the beings that they inhabit, and he is able to free these victims by commanding and casting out the demons, by binding them, and forbidding them to return. Jesus also lends this power to some of his disciples, who rejoice at their new found ability to cast out all demons.
By way of contrast, in the book of Acts a group of Judaistic exorcists known as the sons of Sceva try to cast out a very powerful spirit without believing in or knowing Jesus, but fail with disastrous consequences. However Jesus himself never fails to vanquish a demon, no matter how powerful (see the account of the demon-possessed man at Gerasim), and even defeats Satan in the wilderness (see Gospel of Matthew).
There is a description in the Book of Revelation 12:7-17 of a battle between God's army and Satan's followers, and their subsequent expulsion from Heaven to earth to persecute humans — although this event is related as being foretold and taking place in the future. In Luke 10:18 it is mentioned that a power granted by Jesus to control demons made Satan "fall like lightning from heaven."
Augustine of Hippo's reading of Plotinus, in City of God (ch.11) is ambiguous as to whether daemons had become 'demonized' by the early 5th century:
"He (Plotinus) also states that the blessed are called in Greek eudaimones, because they are good souls, that is to say, good demons, confirming his opinion that the souls of men are demons.
Building upon the few references to daemons in the New Testament, especially the visionary poetry of the Apocalypse of John, Christian writers of apocrypha from the 2nd century onwards created a more complicated tapestry of beliefs about "demons" that was largely independent of Christian scripture.
At various times in Christian history, attempts have been made to classify these beings according to various proposed demonic hierarchies.
According to most Christian demonology demons will be eternally punished and never reconciled with God. Other theories postulate a Universal reconciliation, in which Satan, the fallen angels, and the souls of the dead that were condemned to Hell are reconciled with God. This doctrine is today often associated with the Unification Church. Origen, Jerome and Gregory of Nyssa also mentioned this possibility.
In contemporary Christianity, demons are generally considered to be angels who fell from grace by rebelling against God. However, this is not consistent with historical Christianity or Judaism which teaches that demons, or evil spirits, are a result of the sexual relationships between fallen angels and human women. When these hybrids (nephilim) died they left behind disembodied spirits that "roam the earth in search of rest" (Luke 11:24). Many non-canonical historical texts describe in detail these unions and the consequences thereof. This belief is repeated both in the Koran and other major ancient religions and mythologies. Present day Christians who reject this historic view do so by ascribing the description of "Sons of God" in Genesis 6 to be the sons of Seth (one of Adam's sons). For this to be the case, one must believe that Moses, who is believed to be the author of Genesis, chose to use a phrase that is only ever used to describe angelic beings in the whole Old Testament to refer to man. The first time man was ever referred to as "sons of God" was by the prophet Hosea who spoke of a time yet to come and Jesus repeated this in John 1 where he said that those who believe in him will have the power to become sons of God. Further more, an in-depth word study of the original Hebrew and Greek reveals that the words for "angel" and "demon/unclean spirit/evil spirit" are completely different and not interchangeable. One can read in 1 Kings 22:19-23 an account that describes God speaking to and interacting with angels and evil spirits at the same time and that these are distinct and separate beings (also in Acts 23:9).
There are still others who say that the sin of the angels was pride and disobedience. It seems quite certain that these were the sins that caused Satan's downfall (Ezek. 28). If this be the true view then we are to understand the words, "estate" or "principality" in Deuteronomy 32:8 and Jude 6 ("And the angels which kept not their first estate, but left their own habitation, he hath reserved in everlasting chains under darkness unto the judgment of the great day.") as indicating that instead of being satisfied with the dignity once for all assigned to them under the Son of God, they aspired higher.
In Jewish Demonology
Edit
While historical Judaism never "officially" recognized a rigid set of doctrines about demons, many scholars believe that its post-exilic concepts of eschatology, angelology, and demonology were influenced by Zoroastrianism. Some, however, believe that these concepts were received as part of the Kabbalistic tradition passed down from Adam, Noah, and the Hebrew patriarchs. See Sefer Yetzirah.
The Talmud declares that there are 7,405,926 demons, divided in 72 companies. While most people believe that Lucifer and Satan are different names for the same being, not all scholars subscribe to this view.
There is more than one instance where demons are said to have come to be, as seen by the sins of the Watchers and the Grigori, of Lilith leaving Adam, of demons such as vampires, impure spirits in Jewish folklore such as the dybbuk, and of wicked humans that have become demons as well.
In Islamic Demonology
Edit
Islam recognizes the existence of the jinn. Jinns are not the genies of modern lore, and they are not all evil, as demons are described in Christianity, but as creatures that co-exist with humans. In Islam the evil jinns are referred to as the shayātīn, or devils, and Iblis (Satan) is their chief. Iblis was the first Jinn who disobeyed Allah. According to Islam, the jinn are made from the fire (whereas angels are made from light and mankind is made from altered clay).
According to the Qur'an, Iblis was once a pious servant of Allah, but when Allah created Adam from clay, Iblis became very jealous, and arrogant and disobeyed Allah.
Adam was the first man, and man was the greatest creation of Allah. Iblis could not stand this, and refused to acknowledge a creature made of "dirt" (man). Allah condemned Iblis to be punished after death eternally in the hellfire. Allah had created hell.
Iblis asked Allah if he may live to the last day and have the ability to mislead mankind and jinns, Allah said that Iblis may only mislead those whom have forsaken Allah. Allah then turned Iblis's countenance into horridness and condemned him to only have powers of trickery.
Adam and Eve (Hawwa in Arabic) were both together misled by Iblis into eating the forbidden fruit, and consequently fell from the garden of eden to earth.
In Hindu Demonology
Edit
Traditionally Buddhism affirms the existence of Hells peopled by demons who torment sinners and tempt mortals to sin, or who seek to thwart their enlightenment, with a demon named Mara as chief tempter. Most of these "demons" are considered to be representations of mental obstructions. Hinduism contains traditions of combats between its gods and various adversaries, such as the combat of the lord of the gods Indra and the major asura, Vritra.
In Occultist Demonology
Edit
Practitioners of ceremonial magic sometimes attempt to constrain and command demons to do their bidding, using methods such as the Goetia and the Book of Abramelin. The demons are often those mentioned in Christian demonology. These practitioners do not necessarily worship demons, but seek to deploy them to obtain their goals. Other followers of the occultism do worship demons, and some refer to their religion as "demonolatry." Demonolators consider methods such as the Goetia very disrespectful towards the demons, and possibly dangerous for the operator. They instead use forms of prayer, magic, and ritual which petition the demons, asking for their aid rather than commanding them.
Demonolators are not identical to practitioners of Theistic Satanism. They worship other demons (such as Belial and Leviathan) either alongside, or instead of Satan. Some demonolators say that their form of demonolatry is a tradition, often familial, that is not related to the modern religious and philosophical movements collectively referred to as Satanism. Not all of the occultists who worship demons use the word "demonolator" to describe themselves, nor do all belong to the specific group mentioned above.
In Zoroastrian Demonology
Edit
In the Zoroastrian tradition, Ahura Mazda, as the force of good Spenta Mainyu, will eventually be victorious in a cosmic battle with an evil force known as Angra Mainyu or Ahriman.
See Also
Edit
Ad blocker interference detected!
Wikia is a free-to-use site that makes money from advertising. We have a modified experience for viewers using ad blockers

Wikia is not accessible if you've made further modifications. Remove the custom ad blocker rule(s) and the page will load as expected.