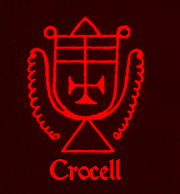 Also known as
Pucel
and/or
Procel
;
Zodiac PositionL 0-4 degrees of Sagittarius
November 23rd-27th
Tarot Card: 8 of Rods
Planet: Jupiter
Metal: Tin
Element: Fire
Candle Color: Pink
Plant: Wood Betony
Rank: Duke
Crocell is a Night Demon and rules 48 legions of spirits. She was the Order of Potentates, or Powers.
she teaches mysticism, geometry, art, history, and all of the liberal science; she can produce great noises and cause great commotions. She can produce confusion and indecisivemess in one's enemies. She warms waters and discovers baths.
Appearance:
Edit
She appears with long flowing blonde hair and a blue dress, with large blue wings.